Grove City High School (Ohio)
Class of 1960
Dick Witteman died January 10, 2019
Larry Carey died August 26, 2017
Norman Fee died February 22, 2017
Shirley Davis Stone died November 20,2016
Carol Ann Bodie Briley died March 17, 2016
We will be getting together Wed, November 28, 2018 at 12:30PM to discuss our party and make plans for our next party.
O'Charley's at Georgesville Square on the West side of Columbus.
Saturday evening September 16 was our 75th birthday gathering at the Elks Lodge in Grove City. A lively gathering with a great turnout. The meal was catered by the same caterer from our reunion and it was well received. As you can see from the pictures we had a fantastic cake and cupcakes to feast upon. Click on the picture to see several other pictures of the evening.
We will be getting together again to discuss our party and make plans for our next party.
O'Charley's at Georgesville Square on the West side of Columbus, Wednesday,
(Click for Directions) November 15, 2o17 at 12:30 PM
##########################################################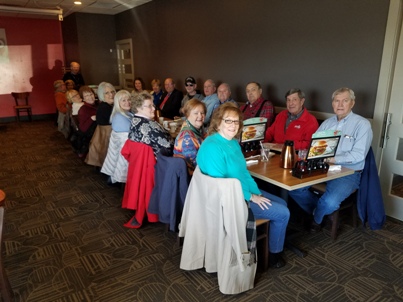 Wednesday August 30, 2017, China Bell Grove City
#############################################################################################
We held another planning meeting/social hour at the new Grove City Library. It is beautiful and a credit to the city!
It was determined that we will have a 75th birthday party at the Elks Club in Grove City on Saturday September 16th, 2017 from 6 to 10 PM. The date coincides with Grove City's Arts in the Alley celebration. You might want to plan your visit to include both. (Elks Club is where we held the class reunion)
Our next meeting will be held at the Grove City IHOP restaurant on Stringtown Road Thursday March 16th at 1:00 - hope you can attend. A little bit of work a lot of fellowship. 2040 Stringtown Rd, Grove City, OH 43123
Several of us were so fortunate to survive the cold and get together at Donato's Pizza in Grove City. In addition to a lot of fun talk, we discussed a plan for a 75th birthday party for all of us next year. We discussed several locations and a possible date of sometime shortly after Labor Day. Any ideas or suggestions you may have would be appreciated.
We are planning another get together next month in Grove City on January 15, 2017 at 1:00PM. We are awaiting confirmation of the location, we are hoping to meet at the new library. I will send out another email when the location is finalized. If you did not receive an email today December 15, 2016 it means I do not have your address or I have it wrong. Please let me know and if you know someone who does not have email please let them know.
Anne and Larry Larrison hosted a potluck at their home on Wednesday September 28, 2016 , everybody had a great time.
Plan and party time Thursday, May 19, 2016 6:30 PM at Ann and Tony's restaurant in West Jefferson Ohio (click for directions)
We are going to get together for dinner and discuss plans for coming celebrations. Many folks have suggested several ways we could continue our lifelong celebration of the friendships we have shared for all these years. Some of the ideas are a 75th birthday party and/or having reunions more closely together.
As a group, we donated to the Grove City Little League group to help build an all-access "Dream Field" for kids who previously might not have been able to enjoy such activities. It would be really nice if we could start a fund to look for places where we could help. So please plan on attending and joining in the fun.
Follow up meeting
A meeting was held at York Steak House at 4220 W Broad St. Columbus OH, on Oct 22 at 6:30 pm for the purpose of discussing how we can improve on the next reunion. Many ideas were discussed and a meeting is planned for this spring. If you have any ideas, please let one of the committee members know of your ideas or comments. All who attended school with us are invited.
=======================================
The 55th has come and gone
(click for pictures)
As the younger folks might say "Reunion weekend was Way Cool"!!!
Friday night, 35 plus members attended the tailgate party and saw the Grove City High
School band put on a fabulous display. They performed their famous Script Dawg for the faithfuls.
Saturday night, 95+ folks attended the banquet. Our honorary class member and teacher Jim Lester gave a rousing talk reminding us that we were juniors when he began teaching. Seems as how he thinks we prepared him for all of the things that can go wrong with students. Seriously, Jim is a favorite of the class of 60 and has been an inspiration to all of us. Mayor Ike Stage a classmate slightly behind our class gave a nice talk and proclaimed our entire class honorary citizens of Grove City - although there was some talk about paying taxes as well. Again seriously we have been privileged to have Ike attend our festivities. Ike has done great things for Grove City.
Sunday morning, about 35 stalwarts assembled at the Golden Corral for yet another couple of hours of visiting and story telling. It was clear no one wanted to leave and a great time was had by all.
Thanks to all of the folks listed below who worked to make this reunion so successful. A special thanks to Dan Witteman, who despite having a schedule crammed with teaching youngsters and coaching tennis devoted an extraordinary amount of time to spearhead the work to prepare for the reunion. He is directly responsible for how great everything was.
| | |
| --- | --- |
| Tom and Jaynie Barker | Larry and Anne Larrison |
| Bill and Joyce Benedum | Darrel and Harriet Linebaugh Saunders |
| Dick and Jeanne Barbee | Bill and Linda Mark |
| Chuck and Char Ewing | Marianne MacLeod Mowery |
| John and Patti Finley | George and Jill Shulz |
| Bob and Glenna Fulton | Jim and Karen Strawser |
| Karen Green Bartley | Dan and Marcy Witteman |
| Bart and Sue Kaderly | Dave and Linda Wylie |
------------------------------------------------------
Recently Deceased
Donna Devore Bowersmith died June 22, 2012
Paul Freshour died June 28, 2012
Patti Perkins Nelson died April 23, 2012 Class of 1961
Ralph Hudson (former teacher age 90) died August 7, 2014
- - - - - - - - - - - - - - - - - - - -